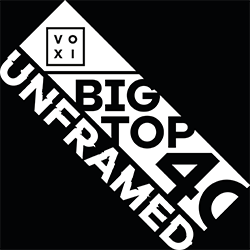 The Vodafone Big Top 40 with VOXI Unframed
If there's one thing we love, it's discovering that one new artist or band that just gets stuck in your head, and before you know it, you're belting out their tunes wherever you go. That's why over the next few months we're going to introduce you to some amazing new Official Vodafone Big Top 40 Breakers.
We've teamed up with VOXI, the new mobile network that gives you endless social data, to introduce to you a brand new artist who we think is going to be the next best thing… We recently got singer-songwriter Mullally to swing by and perform his incredible song 'Wonderful' in our 360° studio. Scroll down to watch his amazing sesh!
Mullally
Influenced by the likes of Amy Winehouse and Paolo Nutini, Mullally started performing at the age of 16 in a band with his best friends. Four years later, and he's acquired over six million streams and was announced as one of the Top 3 finalists of the MOBO Unsung Competition.