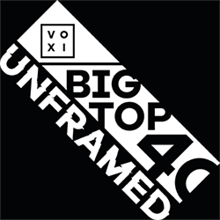 VOXI Unframed with Sigrid
We've teamed up with VOXI, the new mobile network that gives you endless social data, to find the hottest new music, and this year we're going to bring you a series of massive Official Vodafone Big Top 40 Breakers, who we know are going to be the next big thing you're listening to.
This month, Sigrid returns as our Official Vodafone Big Top 40 Breaker. The 21-year-old singer from Norway was first tipped as "one to watch" after releasing her debut single 'Don't Kill My Vibe' in February 2017, which critics were calling the "song of the summer" and caught the attention of Lorde and Elton John. Since then, she's had over 185 million streams on Spotify, a sold-out UK and US tour, and reached No. 2 on The Official Vodafone Big Top 40 with the infectious 'Strangers'.
After an incredible year, we had to invite Sigrid back to the Official Vodafone Big Top 40 to perform in our VOXI Unframed studio. Scroll down to watch her incredible 360 session and for your chance to win some amazing prizes.
Endless possibilities with VOXI
VOXI is a new mobile network created for people aged 25 and under. They give you endless social data in all plans, which means you can use social media apps without eating your data. Plus, you get endless calls and texts as standard - perfect for staying in touch with friends and on top of your socials!
All of this comes with endless flexibility. There are no contracts, so you can change, pause or cancel any time.
That means you're free to use your phone however you want - unlocking endless possibilities.
Watch and win
Do you want to win? It's easy - simply watch both of Sigrid's performances in the VOXI Unframed studio and answer a question about them. But remember, it's filmed in 360°, so the more you explore using your phone, the more you'll see!
The possibilities are endless, so the more questions you answer correctly, the greater your prize is going to be!