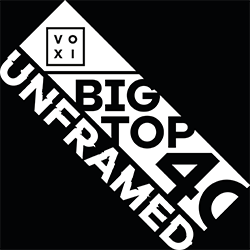 VOXI Unframed with Mullally
We've teamed up with VOXI, the new mobile network that gives you endless social data, to find the hottest new music, and each month we're going to bring you a massive Official Vodafone Big Top 40 Breaker, who we know is going to be the next big thing you're listening to.
This month, our Official Vodafone Big Top 40 Breaker is Mullally, a pop-soul singer from Great Yarmouth. At the age of 16, Mullally began his venture into music, playing the guitar in a band with three of his best friends, before he went solo at 18. Now, at the age of 20, Mullally has amassed over six million streams and was announced as one of the Top 3 finalists of the MOBO Unsung Competition. Inspired by the likes of Paolo Nutini and Amy Winehouse, Mullally has gone on to play some of the UK's biggest festivals, including Latitude, Reading and Leeds.
That's why we had to get our hands on him, and invite Mullally down to our VOXI Unframed studio. Scroll down to watch his incredible 360 session and for your chance to win some amazing prizes.
Endless possibilities with VOXI
VOXI is a new network created for and by people aged 25 and under. They give you endless data for social apps, plus endless calls and texts as standard. That means you're free to use your phone however you want – unlocking endless possibilities. Rolling 30 day plans mean you can change, pause or leave any time – no tricks, no contracts. And you have the freedom to use your phone in Europe at no extra cost.
What's more VOXI now has Music Passes that gives you endless music streaming on your favourite music apps
So, whatever you're into, express yourself endlessly with VOXI.
Watch and win
Do you want to win? It's easy – simply watch Mullally's full performance in the VOXI Unframed studio, and answer three questions about it. But remember, it's filmed in 360°, so the more you explore using your phone, the more you'll see!
The possibilities are endless, so the more questions you answer correctly, the greater your prize is going to be!
Watch the 360 video in full
Answer 3 questions below the video using the clues you've just spotted
The more questions answered correctly, the greater your prize